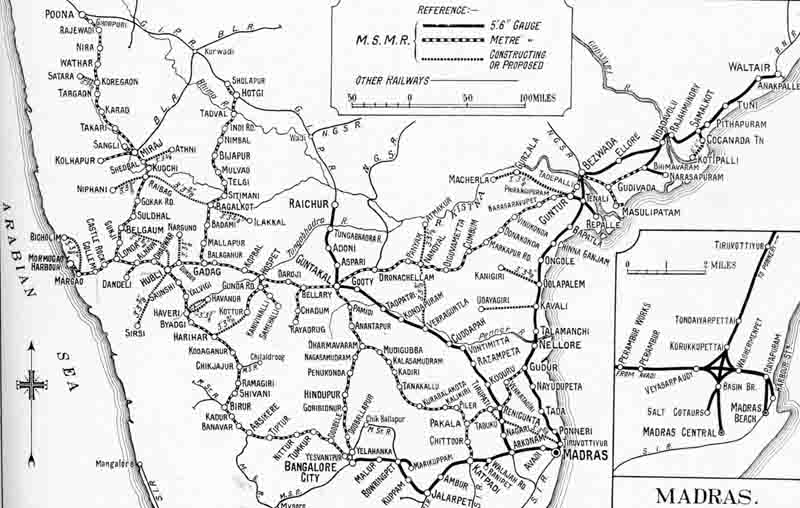 A map of the Madras & Southern Mahratta system of 3065 route miles as it existed in 1929. This includes a number of other railways including the Mysore State, then managed by the company. 1074 miles of the total were broad gauge and the remainder metre gauge.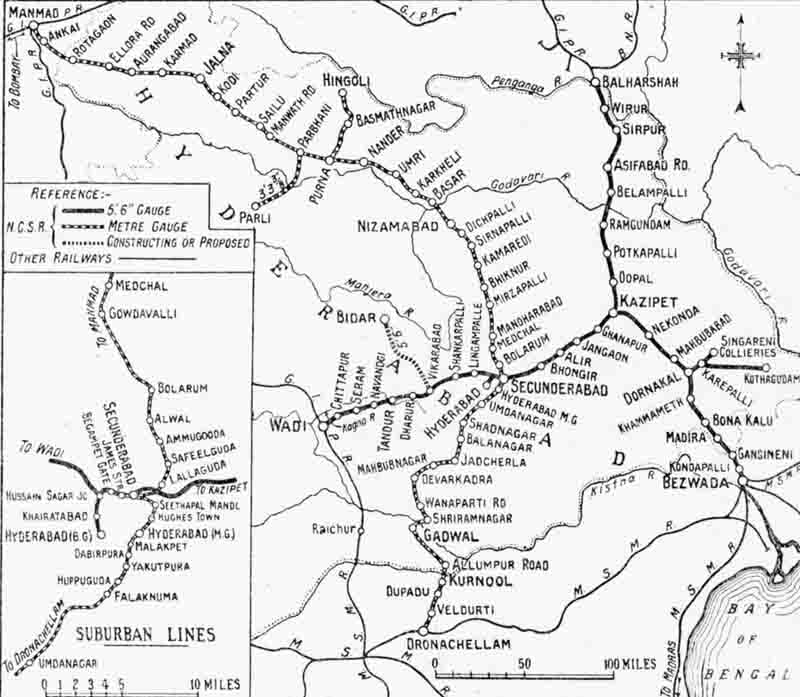 A map of the Nizams State system of 1147 route miles as it existed in 1929, which comprised both broad & metre gauge lines.
The Madras & Southern Mahratta Railway was created in 1908 as result of a reorganisation of state owned lines in southern India. The Madras Railway Company and its constituents that had built the broad gauge lines was purchased at the end of 1907 when its contract expired, whilst the South Indian Railway Co. had been purchased in 1891. After the reorganisation both railways were handed back to the companies for management on the basis of a guaranteed return on capital.

The Madras Railway was registered in 1853 and opened its first line across the peninsula to Beypore (Kalalundi) in stages between 1856 & 1861, although in the reorganisation this line south of Jalarpet was handed over to the South Indian Railway. The branch from Jalarpet to Bangalore was opened in 1864; and the line from Arkonam to Raichur where it met the GIPR was opened in stages between 1861 & 1871. On the east coast route, Bezwada (Vijayawada) was reached in 1899 and in 1901 the southern section of the East Coast State Railway as far as Waltair (Visakhapatnam) was taken over. The extension of its line up the west coast from Beypore to Mangalore had just been completed when this was taken over by the South Indian Railway.

The Southern Mahratta Railway Company had been formed in London in 1882 to manage state owned metre gauge lines that had been built between Goa & Guntakal, Londa & Poon, and Gadag & Hotgi. From 1888 it also managed the Bellary Kristna State Railway on from Guntakal to Bezwada. All these were on a guaranteed return on capital expended basis. The complete Southern Mahratta system plus the former South Indian line north from Katpadi were vested in the new company.

The first line of the Nizam of Hyderabads Railway was that from Wadi to Secunderabad which opened in October 1874, built by and operated by the GIPR utilising capital provided by the Nizam. In January 1885 a contract came into force between the Nizam and The Nizams Guaranteed State Railways Co. Ltd gave the company the preferential right to construct & operate railways within the Hyderabad principality, in return for guaranteed return on capital employed. As a result of this entensions to the broad gauge line reached Bezwada in 1889 and the metre gauge route from Manmad to Hyderabad was opened between 1899 & 1901. 1928 saw the completion of the metre gauge south from Secunderbad to Dronachellam and the broad gauge from Kazipet to Balharshan, the latter completing a direct route from Madras to Delhi.
To view any full size image and caption details please click the maroon button below each thumbnail

©2017 The Restoration & Archiving Trust - Registered in England no.1083582