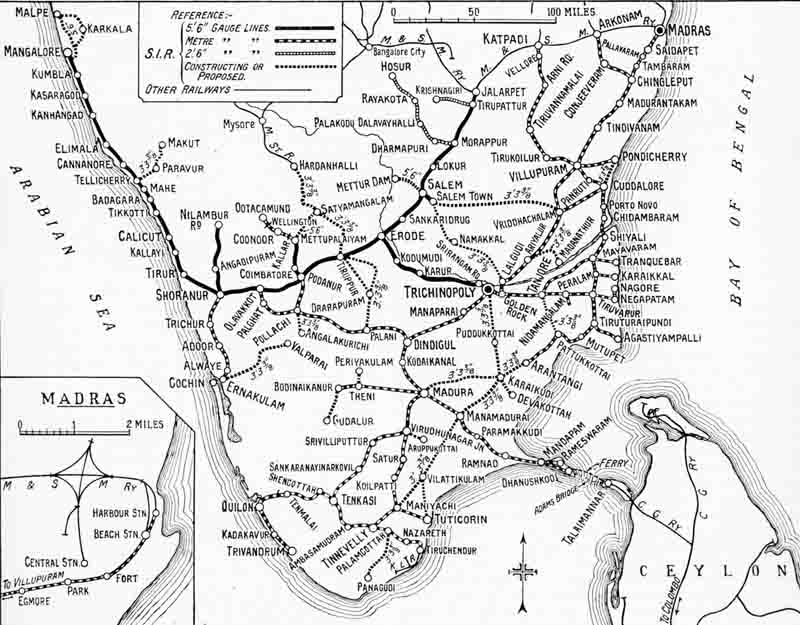 A map of South Indian system of 2348 route miles as it existed in 1929. This is mainly metre gauge but does include 579 miles of broad gauge and 99 miles of 2ft 6in gauge lines.
The South Indian Railway system was changed in 1908 as result of a reorganisation of state owned lines in southern India. The South Indian Railway Co. had been purchased by the state in 1891. After the reorganisation which involved some exchange of lines between it and the Madras & Southern Mahratta Railway, both systems were handed back to the companies for management on the basis of a guaranteed return on capital.

The Great Southern of India Railway Company registered in London in 1853, the forerunner of the South Indian Railway opened the broad gauge line from Negapatam to Trichinopoly in stages during 1861/2 and extended this on to Erode to connect with the Madras Railway line from Madras to Beypore. The South Indian Railway Company was formed following a merger with Carnactic Railway Co. in 1874; and following this merger the Negapatam to Erode line was converted to metre gauge to standardise the system which was steadily expanded. Although the map indicates that the line between Erode and Trichinopoly had than recently been converted back to broad gauge once more; the reorganisation of 1908 having placed the line to Mangalore south of Jolarpret Junction under South Indian control.
In 1931 a metre gauge electric suburban service was opened at Madras, over the 18 mile section from Madras Beach through Egmore station to Tambaram. 24 articulated 3 car multiple units were purchased for this, along with 4 B-B electric locomotives for freight workings. Two battery tenders were also acquired to power these locomotives when they had to shunt in a yard with no overhead supply.
To view any full size image and caption details please click the maroon button below each thumbnail

©2017 The Restoration & Archiving Trust - Registered in England no.1083582