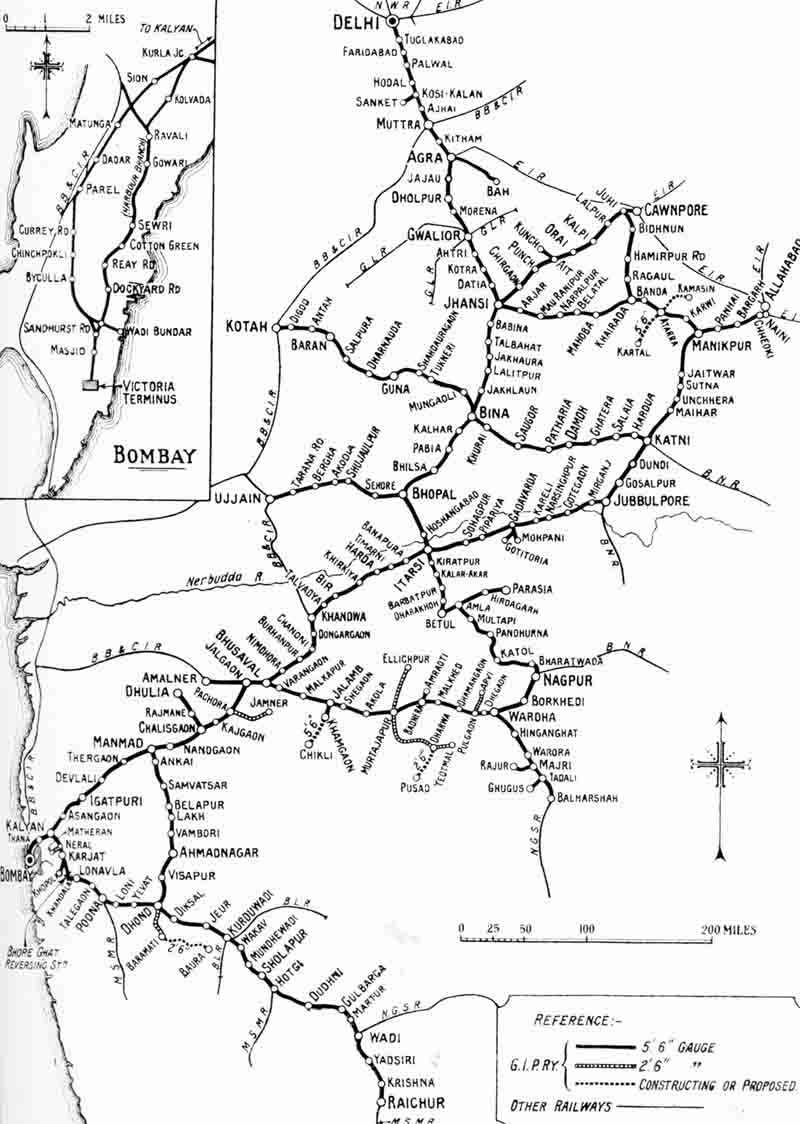 A map of the Great Indian Peninsula system of 3857 route miles as it existed in 1929. This includes 257 miles of 2ft 6in gauge feeder lines, the remainder being broad gauge.
Incorporated in London in 1845, the Great Indian Peninsula Railway Company was created to build cross country connections with both Calcutta and Madras. On the 16th April 1853 it ran the first passenger train in India over the 21 miles between Bombay and Tannah (Thane). The line on to Poona was opened in June 1858, apart from the 16 mile Bhor Ghat section which opened in May 1863. This line was extended to Raichur on 1st May 1871, where it made an end on junction with the Madras Railway. On the route to Calcutta the line had reached Bhusaval in May 1863, again apart from a 10 mile long ghat section opened at the beginning of 1865. Here the line divided with one heading east to Nagpur opened in February 1867 and the other north east to Jubbulpore reached in March 1870, where it connected with the East Indian line to Allahabad.

Future additions to the system were then largely as a result of lines being handed over by the state for operation which provided the through route to Delhi by about 1904; and following the GIPR coming under direct state control in 1925, it also became responsible for the former EIR line from Jubbulpore to Allahabad.
To view any full size image and caption details please click the maroon button below each thumbnail

©2017 The Restoration & Archiving Trust - Registered in England no.1083582