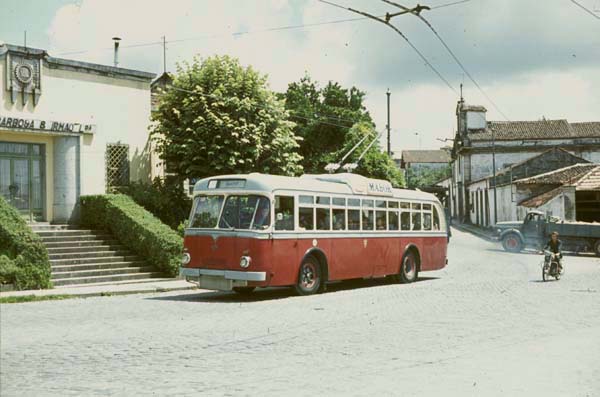 The tramway system in Braga was replaced by trolleybuses purchased second hand from Heilbronn in 1963 due to worn rails. Here one of 3 MAN vehicles acquired operates on route 5, which lasted until 1979, in August 1972.
Photo Mike Squire
As mentioned above, of the five systems in Portugal, Braga was the first to cease in 1963, to be followed by Coimbra in 1980. Between these two dates, Sintra which had been summers only since 1953, ceased operating altogether for 5 years from 1975-9, with the western end of the route re-opening as a tourist operation in 1980. As regards the largest systems, both have contracted dramatically over the last 40 years although this has been offset to some extent by the provision of some modern low floor routes. The Porto system reached its maximum extent in the 1950s with conversion to bus & trolleybus operation starting in earnest in 1967. The Metro do Porto apart, Porto has now been reduced to just a couple of routes. Lisbon tramways also reached their maximum extent in the 1950s with services progressively replaced by buses since. However a batch of traditional cars were overhauled in the 1990s to maintain the services on 4 hilly routes where it would be difficult to operate replacement buses, and the busy route 15 to Belem & Cruz Quebrada has been re-equipped with low floor articulated units..
Much of the information for the captions in this section was obtained from 'The Tramways of Portugal' 4th edition published by the LRTA in 1995.
To view any full size image and caption details please click the maroon button below each thumbnail