Introduction by Derek Huntriss
As a close friend and fellow photographer for many years, I am privileged to be writing this introduction to the work of Paul Riley. He must rank as one of the most forward-thinking photographers of his day and his determined efforts to produce the 'Master Shot' are now almost legend. He pioneered the use of long-focus lenses to portray the steam locomotive in its most dynamic form. The following text is taken from 'Railway Rantings', a set of notes he compiled some time before his untimely death in August 1976.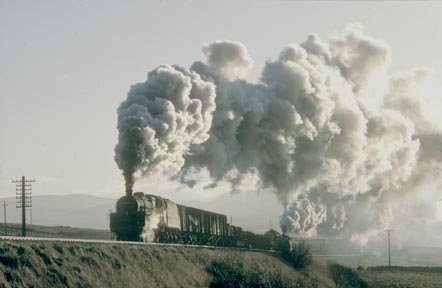 BR Standard class 5MT 4-6-0 number 73067 climbs Shap bank near Scout Green with a down freight banked by a Standard class 4 4-6-0 during the last month of steam working over this section
Railway Rantings
Railway photography, to me, was more of a way of life than a hobby. It began early in 1961 when I chased trains on a push bike. Photographically speaking, the first 12 months weren't up to much - a sort of trial and error period. However, cycle trips became longer and faster and in 1963 I chased LNWR 'Super D' 0-8-0 No. 49361 around Birmingham on an SLS special, photographing it in no fewer than eight different locations.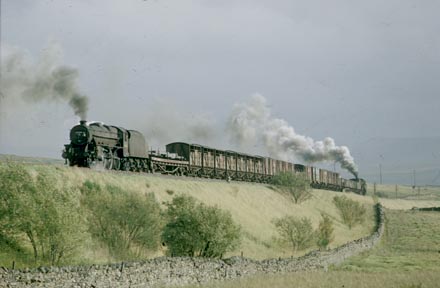 Ex LMSR class 5MT 4-6-0 number 45444 approaches Scout Green climbing to Shap summit with a down freight being banked by a BR Standard class 4 4-6-0
On March 3 1963, still in the 'Big Freeze', I left Coventry on that bicycle at 2 am for Aylesbury. It was the last day of steam-hauled local passenger services on the Great Central and I obtained photographs at every station from Aylesbury (at first light) to Charwelton (at dusk) in the one day. Every few miles I had to get off and sprint some distance in an effort to keep my circulation going. Even so, my hands and feet stayed completely numb, but I am sure it was worth the effort.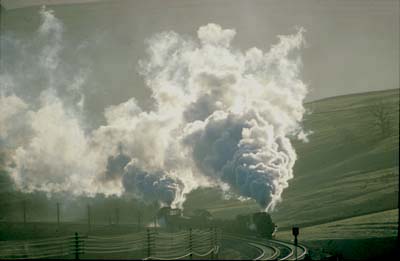 A BR Standard class 5MT 4-6-0 tackles the climb from Tebay to Shap summit and is seen approaching Greenholme banked by a Standard class 4 4-6-0 in December 1967
My first Pentax came on the scene in April, 1963; its first outing was to Hatton bank to photograph all 12 FA Cup semi-final specials on the occasion of Southampton's visit to Villa Park. The sight of Bulleid 'Pacifies' in addition to the regular diet of 'Castles' and 'Halls' made quite a spectacle. Before the arrival of the Pentax, all my work was done using colour film. Initially using Perutz, I switched to Agfa CT18 before using Kodachrome II for the last 18 months of steam. For my black and white photography I mainly used Kodak Plus-X, but when conditions demanded I used Tri-X and Pan-X.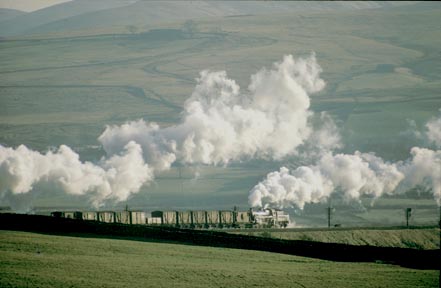 A BR Standard class 4 4-6-0 banks a down freight climbing to Shap summit headed by an ex LMSR class 5MT 4-6-0 that is approaching Greenholme
September 26 1964, was the date of my first of many pilgrimages to the Waverley route The trip was basically to photograph Gresley A4 class Pacific No. 60007 Sir Nigel Gresley on a special to Edinburgh, but as it turned out the picture was to be one of the worst I ever took on the Waverley route. The position I chose was just north of Riccarton Junction and being some ten miles up the l in 70 from Newcastleton I anticipated that it would be struggling with 12 bogies (450 tons) behind the tender.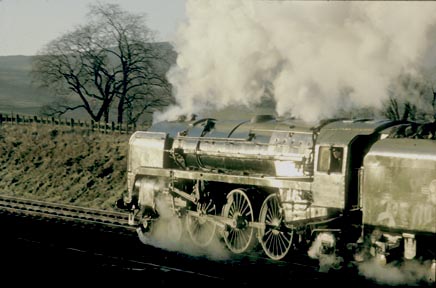 BR Standard class 7P6F 4-6-2 number 70045 'Lord Rowallan' approaches Shap summit with the Carlisle to Manchester Red Bank parcels in December 1967
There was even a 'V2' on stand-by at Riccarton, but in the event, No. 60007 broke all records, clearing Whitrope summit at 36 mph with a clear chimney. On subsequent visits to the Waverley route to photograph the only four steam workings per day, I met a crowd of 'gentlemen' from the Midlands. After some time we started to go round in a group with the obvious social advantages, especially under the Blue Star banner. One weekend in the winter of 1965, six of us met at Crewe and decided on a trip to Whitrope. Taking the overnight Birmingham-Glasgow train as far as Carlisle, we transferred to the 4.45 am to Edinburgh, as far as Hawick.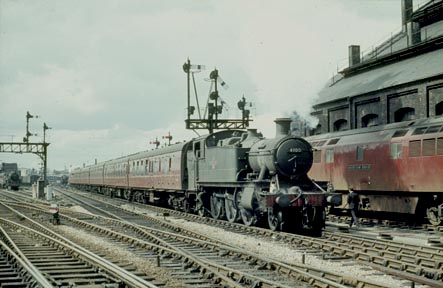 Ex GWR 5100 class 2-6-2T number 4100 approaches Tramway Junction, departing Gloucester Central with the Cheltenham section of an express from Paddington
Arriving in 20 degrees of frost, we walked the 18-odd miles back to Steele Road and returned in the early hours of Sunday morning with only one shot of a 'V2' at Shankend with the 8.06 am Millerhill - Carlisle freight. Surprisingly, everyone was happy. This was mainly due to the unsurpassed peace and beauty of the Border Country in winter, almost making the photography a secondary exercise. After many subsequent trips, the last weekend of service on the Waverley route was one of the wildest, yet saddest of all trips.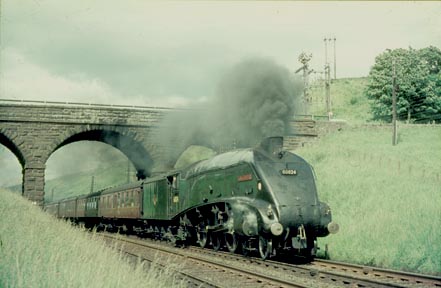 Ex LNER A4 class 4-6-2 number 60024 'Kingfisher' departs Gleneagles with an Aberdeen to Glasgow Buchanan Street express in August 1966
After a day of unrivalled celebrations, the last train to Carlisle was boarded at Hawick. After we had sung 'Auld Lang Syne' on the platform at both Stobs and Shankend, the guard threatened to leave us behind at the next station, Riccarton Junction. Imagine his total surprise and disbelief when we explained that our destination was Riccarton Junction - and on the last service train as well. The following is a true story - although the names have been changed to protect the guilty. During the summer of 1964, I travelled to Beattock on the last day of the Glasgow Fairs holiday to photograph the returning specials from Blackpool and Morecambe, always an interesting affair as Carlisle Kingmoor was invariably short of locomotives.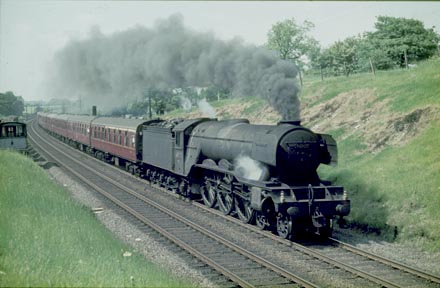 Ex LNER A3 class 4-6-2 number 60107 'Royal Lancer' approaches Stoke tunnel on an up express - 15/6/1963 I left Carlisle on one of those specials after checking with the crew that they would be taking assistance up the bank. At Beattock, I transferred from train to banker for a lift to the summit and then started to walk back down the bank. Before first light (a fortnight at f2 exposures) 'A2' No. 60535 Hornet's Beauty went up the bank followed by Stanier Pacific No. 46255 City of Hereford. After a good day photographing a varied assortment of motive power, I waited at Beattock station for a southbound train and was not disappointed when No. 46235 City of Birmingham drew into the platform.
To my amazement, No. 46235 was not taken off at Carlisle and continued south to Crewe. Having travelled back behind steam from Beattock, I was determined to continue behind steam to either Rugby or Birmingham - no matter how long it took! Six hours later, my prayers were answered in the form of another 'Duchess', this time No. 46240 City of Coventry. This engine took over the relief 'Irish Mail' which departed some 40 minutes late with 14 bogies behind the tender and Riley on the footplate trying his hand at firing. Having uprated a roll of Tri-X to 3,200 ASA and still only managing to get an exposure of thirtieth of a second at f2, I managed a shot of the speedometer reading 90+ mph, quite an achievement on a locomotive footplate.
1965 was a very eventful year in Scotland. I had three separate weeks' holiday concentrating on the Glasgow-Aberdeen route. Daytime was spent taking photographs, usually finishing at Perth in time to catch the southbound West Coast 'postal' which continued to Stirling before the passenger Glasgow portion was split. The first night I travelled on this train, I got chatting to the Carstairs crew who adopted me as fireman as far as Stirling and then I continued to Glasgow where I picked up the ll pm to Aberdeen. This was a regular 'A4' turn and by 'kipping on the cushions' I arrived at 3 am in time to go down to the fish market for breakfast. These arrangements continued for most of that week and occasionally I would fire the 'A4' back to Aberdeen. One night, whilst 'noshing' an Angus steak 'buttie' in Perth refreshment rooms the fireman of the 8.25 pm 'postal' entered in a fuming temper and threw his gloves at me uttering obscenities about a 'Britannia' (although that wasn't what he called it!) that wouldn't steam. I took the hint and as it was 8 pm I had 25 minutes to sort it out. I first tried the pricker but the clinker was absolutely solid, so all I could do was to build up the fire very carefully, but at 8.25 pm only 160 pounds per square inch showed on the gauge. The driver opened the regulator fully, allowing No. 70041 Sir John Moore to slip violently (a last resort to break up the fire), but after firing steadily to Gleneagles there was still only l60 psi on the gauge. This remained constant to Stirling where the idle fireman talked me into carrying on to Carstairs. Here, he was relieved by the Carstairs crew who were equally happy to let me continue to Carlisle where we arrived at midnight with Riley completely knackered. However, after a wash and breakfast in the railwaymen's bothy I boarded the 2.25 am to Perth behind Britannia No. 70048 The Territorial Army 1908-1958. By Beattock I was back on the footplate back to Perth, where I took a well-earned couple of hours 'kip' in the three star 'ecs hotel'.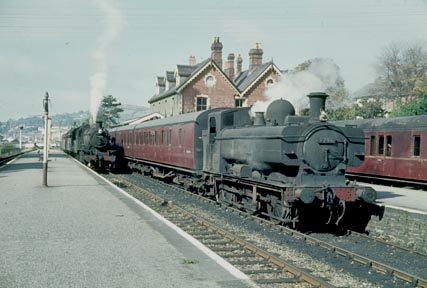 Ex GWR 5700 class 0-6-0PT number 9796 stands in Brecon station after arrival on a train from Neath with LMSR designed class 2 2-6-0 number 46511 standing in the other platform on a Mid-Wales line train - 6/10/1962
It was during this same week, whilst busy working Hilton Junction box, that I met Maurice Burns, just as A4 No. 60027 Merlin came past with the 10.15 am ex-Edinburgh. Both Maurice and I decided to go round to Perth MPD to discover the return working. When questioned, the foreman replied that it would be returning to Edinburgh at 2.55 pm. Just as we were about to go off shed and back up the line, we looked at No. 60027, then at each other, realising that it was quite the filthiest 'A4' we had ever seen. We decided it could do with cleaning. Tongue-in-cheek, we returned to the foreman and asked if we could clean it.
His reply was that he hadn't any cleaners on shed. To this, we said again that WE would clean it. Very mildly and half-heartedly he said that we couldn't do that. Not getting the inevitable marching orders we decided to hunt round for some cotton waste and paraffin. Working very fast we had the engine clean in no time but hit problems with the tender. A ladder was needed, so I slipped back into the gloom of the shed and laid my hands on one. Heading hack to the yard and No. 60027, I was spotted by the foreman. After all, I was a bit conspicuous with a damned great ladder over my shoulder. Carrying on, I sensed I was being followed, all the time fearing the big crunch and having to photograph a clean locomotive and dirty tender. By the time he had caught up with me, I had the ladder up on the tender and was going like mad with the cotton waste. To our amazement he stood watching with his hands behind his back and mouth wide open.
Eventually the silence broke: 'Ach, a've noo ever seen anything like it in 40 years of service!' He then insisted on being photographed with us and No. 60027! Even so, the final photograph at Glenfarg was a dead loss - but the cleaning session was very significant in being the first of a very long line of similar tasks. This procedure spread so rapidly and with such keen interest that crowds of us would leave our homes on Friday evenings to clean up anything from the Lymington branch engine to 'A4s' at Aberdeen Ferryhill (61B).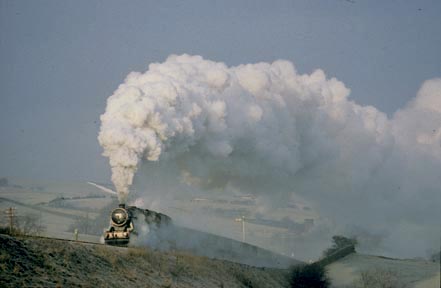 Ex LMSR class 8F 2-8-0 number 48448 climbs towards Copy Pit summit near Cliviger with a train of coal empties from Rose Grove on 24/2/1968
In 1965, BR approached me for the use of some of my photographs taken on the West Highland line for a Highland Railway exhibition in Inverness - and asked me to name my own price. I asked for 30/- (£1.50) and a bit of co-operation regarding LNER 'A2' No. 60530 Sayajirao of Dundee (62B). These single chimney A2s had haunted me and I couldn't get one working on an ordinary passenger train. This was annoying, particularly after seeing all the W.J.V. Anderson masterpieces - yes, I was jealous.
My request was that No. 60530 should be rostered to work the 10.15 am Dundee-Glasgow and the 6.15 pm return for one week commencing August 30. To this, BR agreed in part, namely to roster it for the Monday only. As Sundays were fairly quiet in Scotland, Dave Gouldthorp and I decided to spend the afternoon cleaning No. 60530 on Dundee MPD. Unfortunately, we hadn't allowed for the temperament of the shed foreman who just wouldn't hear of us cleaning one of HIS engines. Not to be outdone, we crept back at 2 am and spent three hours cleaning No. 60530 until you could have eaten your dinner off the top of the boiler. Next, it was off to Auchterarder for the outward journey and Dunblane for the return. As BR had informed me that it was for one day only, we took off for Ayrshire and the Fowler 'Crabs' on the Tuesday, only to find on our return to Glasgow that No. 60530 had worked the same turn again. Back to Dundee we went, to check the roster board for the Wednesday which read '10.15 am Glasgow - No. 44718.' During the wee hours this mysteriously became '10.15 am Glasgow - 60530.' As luck would have it, we just happened to be at Hilton Junction to photograph the outward journey and St. Rollox for the return. Although Monday evening's shot was useless, the other three were quite acceptable - all this in just three days after three years of trying.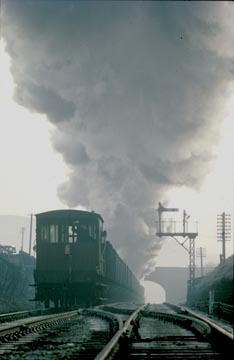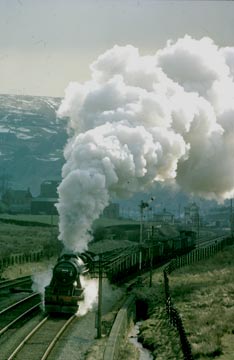 After many chasing trips as navigator for Gerry Dixon in his famed white Zephyr, it was realised how advantageous a motor car could be, particularly for chasing. In April 1967, I procured a provisional licence and after three or four hours tuition, I purchased a beat-up Vauxhall Wyvern for £40. The first jaunt to Birkenhead was obviously a trial and error affair, although the normally steel nerves of my passengers began to soften before we got back to Birmingham.
After only a couple of months the old Vauxhall began to break up - literally. The Buxton - Glossop road claimed the front bumper and the back one disappeared while chasing a special on the Southern near Andover. The last trip with the Vauxhall was certainly the most interesting. With the usual complement of five in the car, we chased a Stanier Class 5 up Shap from Tebay and when cornering fairly hard it started to handle very strangely. Upon investigation (naturally, after the shot) we discovered that a 2 ft length of leaf spring had come through the boot. The following day we continued to Berwick to see 'A4' No. 4498 Sir Nigel Gresley and on checking the oil and water levels I noticed that the engine had developed a ten degree list to one side (due to shattered engine mountings). This really put the wind up me' to the extent of imposing a 30 mph speed limit for the rest of the trip for fear of having a 1500 cc engine on our laps. Having taken the return shot of No, 4498 on Cockburnspath, we commenced the return journey from Grantshouse to Coventry. Thirteen hours of solid driving later, with stops only for black coffee, it was straight into work - and they call this enjoyment.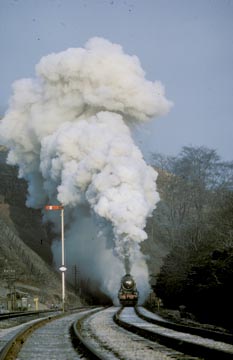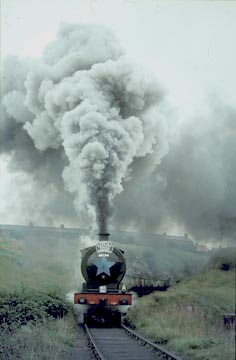 The next arrival on the scene was a beautiful blue 12 years old Mk 1 Ford Zephyr which was to last out BR steam - just. Eighteen months and 60,000 miles takes some stamina especially for a 12-year old. It was with this motor that I discovered radial tyres, especially after getting only 6,000 miles from a set of cross-plies. This change to radials definitely increased consumption - shots per mile that is.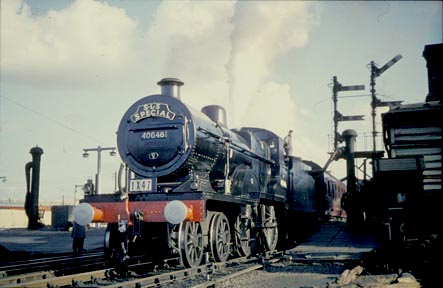 Ex LMSR class 2P 4-4-0 number 40646 stands in Bletchley station on an SLS Railtour on 14/4/1962
One Monday in February 1968, it snowed heavily and the forecast was for more, so I thought conditions would be perfect for the Buxton area with '8Fs' off Gowhole and working up to Chinley and Chapel-en-le-Frith. So, with two 1 cwt castings (borrowed from work) in the boot and two passengers on the back seat, we left Coventry for a trip which usually takes an hour & a half. It soon became evident that things were not going to be easy with the M6 looking more like a battlefield than a motorway. Vehicles were abandoned everywhere, not only on the hard shoulder, but over all six lanes as well. I managed to pick my way through these and got to Macclesfield at 7 am. although this town had, officially, had been cut-off since midnight. From here. I tried the direct road to Gowhole via Whaley Bridge.
This was up a l in 10 out of the town. but I managed to pass everything that was stuck, including a milk float with snow- chains. At the top of the hill, two lorries had collided and closed the road so we had to turn back and try another road out. This time we tried the direct road to Buxton (the A537) which is via the Cat and Fiddle, much renowned in this type of weather - but I'd never heard of it - then. I soon learned. The first few miles were relatively easy. but then we hit snow drifts up to 8 ft deep. I soon discovered the only way of continuing was to hit them at 30/40 mph, first knocking a hole in them and of course getting stuck before reversing about 200 yards and blasting through the gap. From here the rate of progress was very slow and strenuous. It must have been sheer lunacy, but we pushed on until it happened. I completely missed a Y junction and embedded the motor in 4 ft of snow. Reluctantly we turned round, and that in a good 30 minutes, and back to Macclesfield where we went via Hazel Grove and down the A6 to Buxton - nine hours after leaving Coventry. Completely shattered, we went to the MPD to find out what '8Fs' were working - and what do you think the shed foreman said? \"You don't think we're going to send them out in this weather, do you?\" After that, there was only one place to go and that was the local alehouse before the return journey to Coventry which was a little easier and involved no shovelling.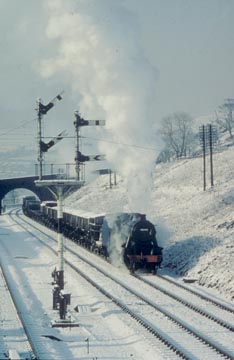 Ex LMSR class 8F 2-8-0 number 48442 approaches Chinley station with a Gowhole yard to Buxton freight on 3/2/1968
Yes, RDU 290 certainly did herself justice and ended her life in a blaze of glory. On Boxing Day, 1967, with new engine just run-in and tuned to perfection we took off for Shap with five for Britannia No. 70013 Oliver Cromwell on a football special to Blackpool. We arrived at Strickland Woods in frosty, foggy weather, but as No. 70013 appeared the sun broke through, just like magic, and opposite to normal, stayed out all day. From Strickland to Shap summit we caught it at six different locations and decided to continue chasing to Preston with the help of 105 mph from RDU 290. On the M6 we overtook the train and then from 90 mph to a dead stand on the hard shoulder under a bridge, with car bonnet up we scrambled up onto the bridge to shoot No. 70013. Then back to the car to slam the bonnet shut, with 37 shots of No. 70013 in immaculate condition and ideal weather.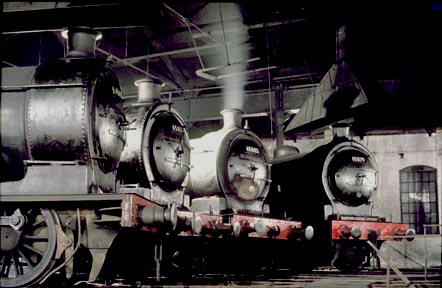 Ex LNER J27 class 0-6-0 numbers 65855, 65811, 65882, & 65879 gathered around the turntable in the roundhouse at Sunderland shed at the end of the last week of steam working in this area

After all these years, there is still a weekend in August when we all get together at The Station Inn at Ribblehead. After drinking to all hours, singing those educational rugby songs, the following morning sees us collecting all the stragglers who have the knack of ending up anything up to two miles away from everyone else. Then it's off to Stainforth for breakfast and on to see our friends on the Worth Valley Railway. This annual re-union is now the high point of the year and will continue, I am convinced, until the last one of us has drawn his last breath.

©2017 The Restoration & Archiving Trust - Registered in England no.1083582