Being born and brought up in an area near the Old Kent Road in south-east London, Dick's early railway interest was centred on the Southern Region (SR) of British Railways. Dick's local engine shed was Bricklayer's Arms – notoriously one of the most difficult London sheds for unauthorised visits. True to form, Dick had a few stories to relate about the 'bunking' of that particular shed in the early 1960s. Other favoured venues were Waterloo and Nine Elms, and, north of the Thames, the main-line stations at Kings Cross, St Pancras, Euston and Paddington and their associated locosheds (Top Shed, Kentish Town, Camden and Old Oak Common). There were also shed bashes to the north with a local railfans club, including Scotland in 1962. Dick took an early interest in railway photography, using a box camera to recall scenes that were so typical of the time, for example 'A4s' at Top Shed, Lord Nelsons at Nine Elms and Caledonian 0‑6‑0s at Polmadie.
Around 1964, Dick started work at a firm of solicitors that was based in London and located conveniently close to Waterloo station. Dick's notebooks for the period from Autumn 1964 up until the end of SR steam (July 1967) detail frequent lunch-hour visits to Waterloo station, sometimes slightly extended to view an unscheduled 'Ocean Liner Express'. In August 1965, Dick acquired his first 35mm camera (a Baldessa) and put it to good use recording the dying remnants of GWR steam at Southall and the more impressive main-line steam operation at Waterloo. Dick also started to build a very extensive collection of photos taken at Nine Elms shed, which provides a valuable record of London's final steam shed. From mid-1966, with the end of SR steam approaching, Dick took to lineside photography, firstly in the London suburbs and Woking, then later at Worting Jct, Micheldever and the New Forest. With the acquisition of a stop-watch he took an interest in train timing activities and was sometimes seen with the regular crowd of train bashers and loggers (nick-named 'DAAs') on the Waterloo—Bournemouth line. After work, he made trips timing the steam-hauled commuter trains to Basingstoke. On 8th July 1967 – the final Saturday of SR steam – Dick was at Waterloo in the early hours for that unforgettable run with 34095 'Brentor' and Gordon Porter on the 02.45 Waterloo—Bournemouth newspaper train. For the final Saturday of SR steam, the 08.30 Waterloo—Weymouth and 16.00 Weymouth Quay—Waterloo (Channel Islands Boat Train) were specially diagrammed for steam. Dick was part of the group that baled out of the 34095 run at Southampton Central in order to make their way back to Waterloo in time for the 08.30 down. Unfortunately, the means for achieving this – the 06.07 Southampton—Reading DMU – failed at Winchester with brake problems. Although the 08.30 ex-Waterloo had its first scheduled stop at Winchester, someone in the group ordered a special stop for Woking and the group managed to get up from Winchester to Woking to join 35023 'Holland-Afrika line' for the last 'Down' steam run. Dick went through to Weymouth with 35023, then travelled behind 73092 on the 12.12 Weymouth—Bournemouth. During the afternoon, Dick paid a final visit to Eastleigh shed before returning to Bournemouth to join 35023 with the 'Up Quays' to Waterloo. He then went to Nine Elms shed in late evening for the last rites, as 35023 passed by the coaling tower to the turntable, then onto shed where its fires went out for the last time. There are a number of photographs of these events in Dick's collection, including the large numbers of enthusiasts that were present at Nine Elms that night. As a historical footnote, the Up 'Quays' on 8th July was not actually the last steam working into Waterloo – the next day (Sunday) there were two 'Up' steam workings into Waterloo.
During 1966/7, Dick's railway activities were by no means confined to the Southern Region. In July 1966, he undertook a mammoth fortnight shed bash using a railrover ticket and visited 56 sheds in 14 days. Almost all the remaining steam sheds were covered (some on more than one occasion), together with steam haulage behind the last A4s in Scotland. Lack of funds made this type of trip a real endurance test – to avoid accommodation costs groups of double overnights in trains and station waiting rooms were interspersed with the odd visit to a youth hostel. There was also a night's 'accommodation' in a Glasgow police station! So Dick was criss-crossing the country during the night, favouring a Glasgow—Manchester overnight and forays up and down the east coast main line from Edinburgh.
Trips to the north-east for lineside photography followed in June and August 1967, this time sleeping in a tent to economise on costs. Even then, the double-overnight theme continued – after the last Saturday action at Sunderland he travelled by overnight trains to Barry scrapyard in South Wales, returning overnight on Sunday in time for the first morning J27 workings. The tent was pitched at any convenient spot, even under the colliery slag-heap at Ryhope near Sunderland. It was on these trips that Dick's love of the north-east and its people was formed. Dick continued visiting the colliery railways of the north-east until 1974 at least, forming friendships with many of the railwaymen and local enthusiasts, and maintaining correspondence over the following years. Dick was particularly associated with Backworth colliery in Northumberland. During 1967, Dick developed another of his skills - hitch-hiking. He acquired considerable expertise in this activity.
Following the end of Southern Region steam, given the constraints of short holidays and lack of funds, a weekend hitch-hiking foray to the north was the best way to witness the remaining BR steam action. Dick's notebooks have considerable detail on the logistics, including locations, pick-up times and vehicles involved. After dinner at home in south London on a Friday night, Dick would typically make his way to north London (often Mill Hill) to hitch a lift northwards, the destination being Leeds, Bradford, Carlisle or the north-east. Dick showed a dogged determination to achieve his objective, even if it took him hours to get the first lift and he was set down at a remote, inconvenient spot. There isn't a single instance in his notebook when he failed to get to the north, even in the face of missing the early Saturday morning steam workings at places such as Bradford. Things went relatively smoothly for the last weekend of steam working at Leeds/Bradford on 30th September 1967. Soon after arrival at Mill Hill on Friday evening, he got a lift at 19.50 in a Cortina Estate, eventually getting to Leeds City station in the early hours after two further lifts with a Morris Minor and Austin Cambridge. After visiting Holbeck shed, he went to Bradford, then walked to Low Moor shed, arriving at 05.00. The day ended up at Garsdale on the Settle & Carlisle where the last Jubilee working was recorded – 45562 on the 13.30 Hunslet—Carlisle freight. The return hitch-hike on Sunday took some nine hours, via Brough, Nottingham and the M1. The following weekend (7th October) found Dick hitching north once again, picking up his first lift at Apex Corner at 20.16, eventually arriving Wakefield at 03.22. His notes then state 'sleep in shop doorway, walk to Wakefield shed arrive 06.30'. Visits to Normanton and Royston sheds followed. He then hitched via Barnsley to Manchester, where he was able to indulge another of his interests – soccer – with a visit to see Manchester United beat Arsenal 1-0 at Old Trafford. Needless to say, a visit to Trafford Park shed followed shortly after the match. On the Sunday, Dick visited Buxton shed before hitching back to London, departing Buxton at 11.00 and arriving at Baker Street in London at 15.35.
During the final year of BR steam (1968), Dick made two visits to the north-west. On the first visit, in April, Dick again got northwards by hitch-hiking. Early in 1968, Dick acquired his first car – a Hillman Minx, registration 486TMP. The car was deployed to the north-west in June 1968 so that he could record the final days of steam working on British Rail. 486TMP was then used on numerous trips to collieries in the north-east, South Wales and Scotland during 1968/9. By this time, Dick was acquiring ever-more sophisticated camera equipment and took great pride in possessing all the latest photography gadgets. Eventually, he made a purpose-built camera frame to mount two SLR cameras, so that colour and monochrome photos could be taken simultaneously. In 1967, he purchased a bulky, high-spec Telefunken reel-to-reel tape recorder, which he lugged around the colliery areas of the north-east and put to good use, recording a scene that was soon to pass forever.
With the demise of steam in the UK, Dick started travelling across the channel, where steam continued to operate for a number of years. Little could be achieved in the limited time available from company holidays (two to three weeks in those days), so Dick chose to resign from work and embark on a two-month 'steam-bash' to France, Germany, Spain and Portugal in summer 1969. Once again, economy was the watchword, and the tent strategy was resurrected for travel in the relatively expensive countries of France and Germany. By contrast, it was possible to live the 'high-life' in Spain and Portugal during the Franco/Salazar era, with a modest bed and six-course meals for less than £1 per day. All travel was carried out by rail, with some slogging on foot. On the SNCF, a week was spent photographing the last 241P workings in the Loire Valley, and the 140C workings at Verdun were discovered. The highlight of the trip was probably getting the Portuguese de Glehn compound No 268 in action at Tua in the Douro Valley. There followed a long slog on foot up the Douro Valley to Ferradoza, where, despite his travelling companion's warnings, Dick insisted on bathing his blistered feet in the river Douro. Subsequently, whilst travelling back through Spain behind a RENFE 242F from Miranda to Zaragoza, Dick's feet were showing signs of infection and began to swell to alarming levels. The RENFE first aid post at Zaragoza proffered treatment in the form of a foot-bath of potassium permanganate solution! After laying up for a few days in the pension on Tardienta station the treatment seemed to have succeeded and onward progress to Cerbère on the French border was possible.
Another two-month trip to Europe followed in the summer of 1970. The highlight of this trip was a visit to the Rio Tinto mines in Andalucia, which at that time operated an amazing fleet of old British-built steam locos. Rio Tinto was reached on the twice-weekly mixed train from Huelva, the route passing along a spectacular valley on the climb from the coast. Hauled by a relatively modern RSH 2-6-0, the train consisted of a rake of hopper wagons with an antique wooden-body, four-wheel coach attached at the rear, complete with ticket inspector. The un-announced arrival of Dick and colleague at Rio Tinto mines was not welcome and the British ex-pat managers handed them over to the Guardia Civil, who locked them up in a local bar for the night before expelling them the next morning (but not before extensive photography had been carried out). This type of experience was to be repeated many times on later trips further afield, particularly to East Europe and Turkey where railway photography could be problematic to say the least.
Following the summer 1970 trip, Dick had a little difficulty in re-establishing his career and finally decided that his active railway interest would best be pursued in UK steam preservation. During the 1970s, Dick became a prominent figure in the UK preservation movement, initially being heavily involved with setting up the ill-fated Longmoor Steam Railway at Liss. Subsequently, Dick became a founder member of the East Somerset Railway. During this period, he owned a Barclay 0‑4‑0ST, and had part ownership of a Dubs 0‑4‑0CT (crane tank) and an Austerity 0‑6‑0ST. All three locos are still in working order in 2012. Dick's extensive notes and collection of photographs from this era survive and provide a substantial legacy for his friends and colleagues of that time.
In the late 1970s, Dick's interest in foreign steam was re-kindled. With his increased commitments to disc jockeying and the south London disco scene, he was finding it difficult to spend long weekends at Cranmore. He eventually gave up his preservation activities in the early 1980s. The occasional foreign steam bash then became the best way to indulge the railway hobby. In many ways these became the 'golden years' of Dick's railway hobby, with increasingly exotic and adventurous locations. Starting with East Germany/Poland in 1980 and South Africa in 1981, the trips progressed to South America and many far-flung places in Asia. Dick eschewed organised group trips, preferring to go solo or with a single companion, even to the most hostile countries. Perhaps his greatest achievements in the railway field were the two solo trips to China in the early 1980s. The first was a one-month trip in gruelling winter conditions at a time when most parts of China were closed to foreigners and railway enthusiasts were officially only allowed to visit in organised parties. It was a considerable achievement, alone in such an alien environment, to thwart officialdom and get out 'under the radar' from the few 'open' cities. In the second trip, Dick managed to get onto Hainan Island in the South China Sea and was probably the first railway photographer to do so.
Many of the trips were organised with the specific objective of spending Christmas away from the UK. Nevertheless, there were more than 100 people on Dick's Christmas card list – he would revel in writing and addressing all the cards on tour, then purchasing the stamps for them in some remote Indian or Pakistani post office, before handing them over to an astounded postmaster for shipment back to the UK. Inevitably, Dick often became the centre of attention in areas of Asia where few European visitors had ventured. At well over six-feet tall, he towered over many of the locals and often sported vividly-coloured t-shirts (the red 'bebe Coca-Cola' and yellow Brazilian football ones come to mind). Particularly in India, crowds of staring, rubber-necking civilians would surround Dick, initially much to his annoyance. In typical fashion, Dick learned to diffuse the tension by humorous engagement with the spectators, perhaps by poking fun at one of the assembled masses, thus turning the tables. A 'larger-than-life' character, Dick was known for his razor sharp wit and skill in repartee, and his ability to keep up morale in difficult situations abroad.
From the late 1980s Dick settled down to become a family man and the father of two children. He maintained his interest in foreign steam with a few trips to India/Nepal and Cuba. On 19th May 2012, Dick's ashes were scattered at Cranmore, the Barclay 0‑4‑0ST that he had once owned being specially steamed for the occasion. The ceremony was performed by his daughter, Davina, by feeding Dick's ashes into the firebox of the 0-4-0ST. The loco then performed a 'run past' next to the shed building at full throttle. The sadness of Dick's early death had deeply shocked the friends and colleagues present, despite the fact that many of them had not seen Dick for nearly 30 years. Many anecdotes were exchanged as we recalled some of Dick's witticisms and catch-phrases. Dick's memory will clearly live on in those of us who were privileged enough to know him.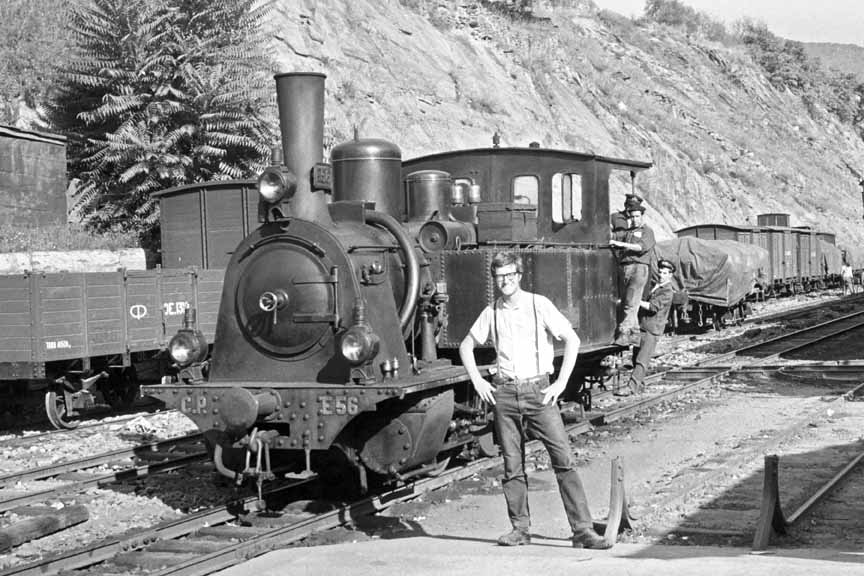 Tua, Portugal : 18/09/1970
Postscript
In June 2015, we were contacted by a lady, Nita, who said she had some old postcards from Dick that she thought we may be interested in. A visit was made whilst down in London on other business and it transpires that she used to run a surplus store in Edmonton, from which Dick had purchased a pair of Doc Martens in 1984. Following this purchase he had then sent her a series of postcards from far flung corners of the planet over the following few years. He later purchased a second pair of boots and was invited to the shops closing down party in 1988.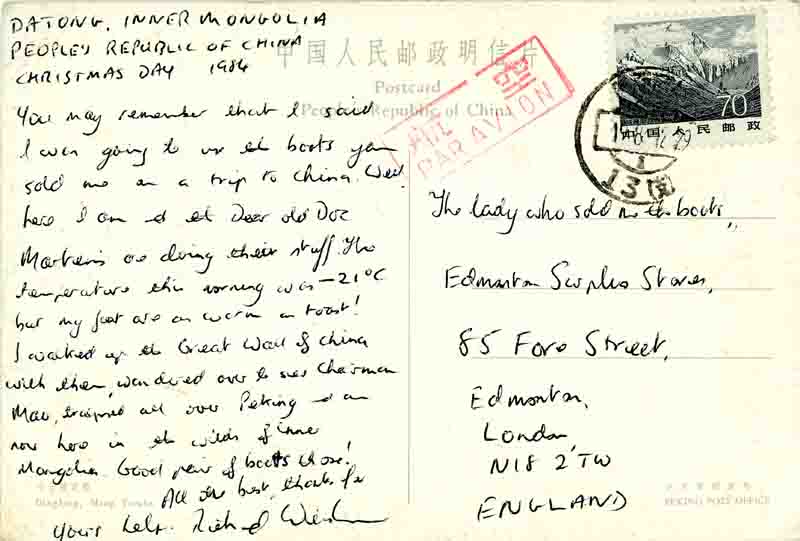 The message on the above card reads: "You may remember that I said I was going to use the boots you sold me on a trip to China. Well here I am and the Dear old Doc Martens are doing their stuff. The temperature this morning was -21°C but my feet are as warm as toast! I walked up the Great Wall of China with them, wandered over too see Chairman Mao, traipsed all over Peking and am now here in the wilds of Inner Mongolia. Good pair of boots these! All the best, thanks for your help."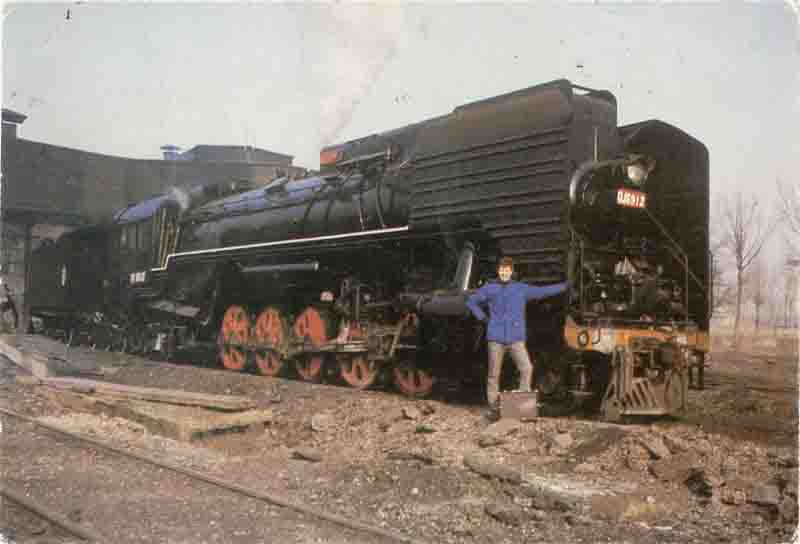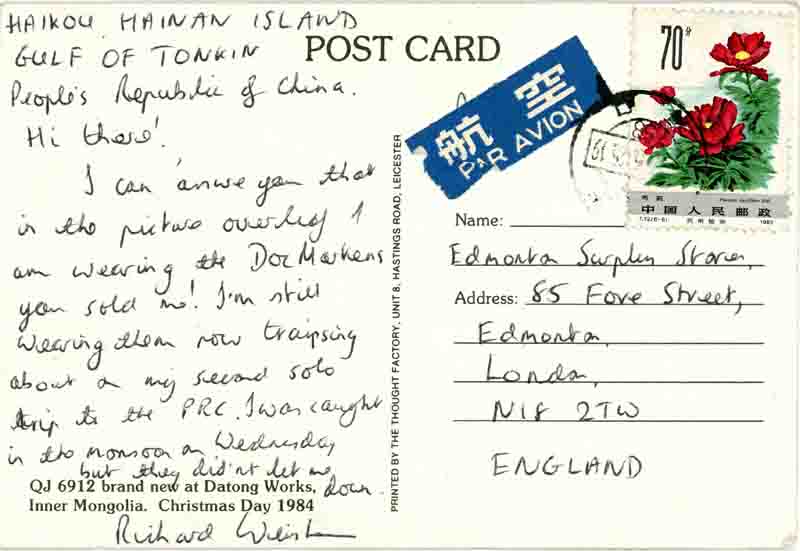 The message on the above card reads: "I can assure you that in the picture overleaf I am wearing the Doc Martens you sold me!. I am still wearing them now on my second solo trip to the PRC. I was caught in the monsoon on Wednesday but they did not let me down."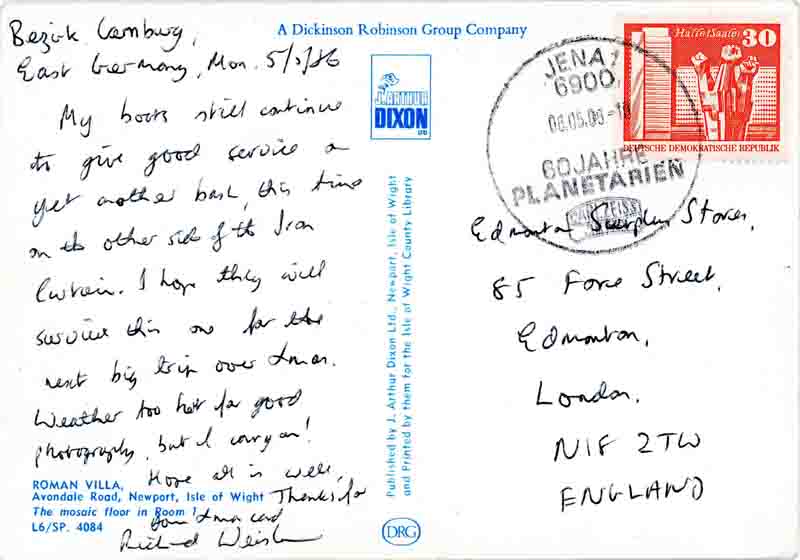 The message on the above card reads: "My boots still continue to give good service on yet another bash, this time on the other side of the Iron Curtain. I hope they will survive this one for the next big trip over Xmas. Weather too hot for good photography, but I carry on. Hope all is well. Thanks for the Xmas card."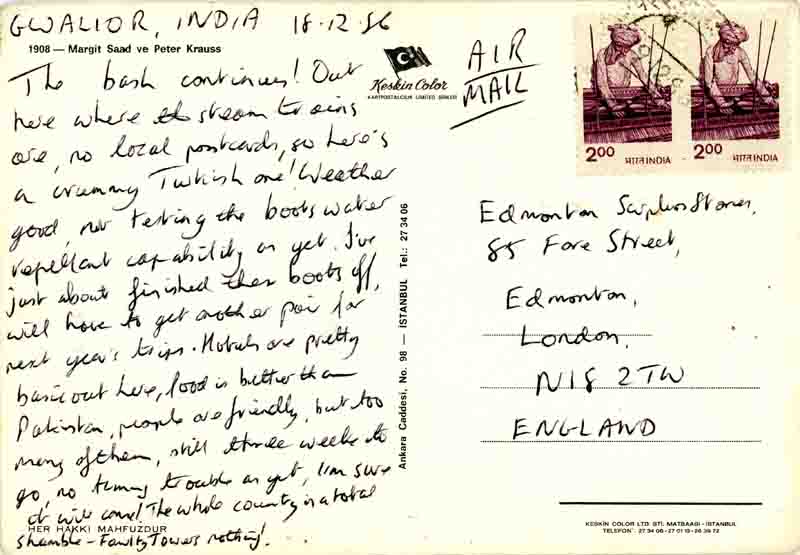 The message on the above card reads: "The bash continues! Out here where the steam trains are, no local postcards, so here's a crummy Turkish one! Weather good, no testing the boots water repellant capability as yet. I've just about finished these boots off, will have to get another pair for next year's trips. Hotels are pretty basic out here, food is better than Pakistan, people are friendly, but too many of them. Still three weeks to go, no tummy trouble yet, I'm sure it will come! The whole country is a total shamble - Fawlty Towers nothing!"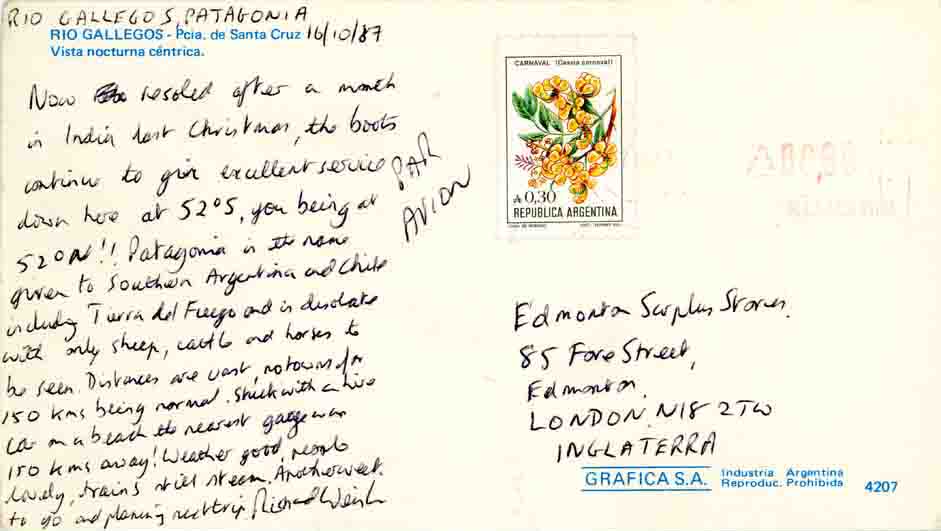 The message on the above card reads: "Now resoled after a month in India last Christmas, the boots continue to give excellent service down here at 52°S, you being at 52°N!! Patagonia is the name given to southern Argentina and Chile including Tierra del Fuego and is desolate with only sheep, cattle and horses to be seen. Distances are vast, no towns for 150km being normal. Stuck with a hire car on a beach, the nearest garage was 150kms away! Weather good, people lovely, trains still steam. Another week to go and planning next trip."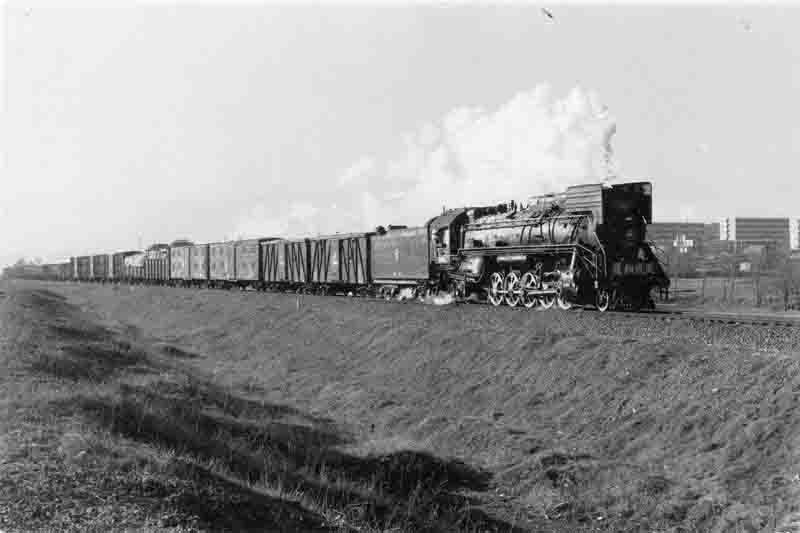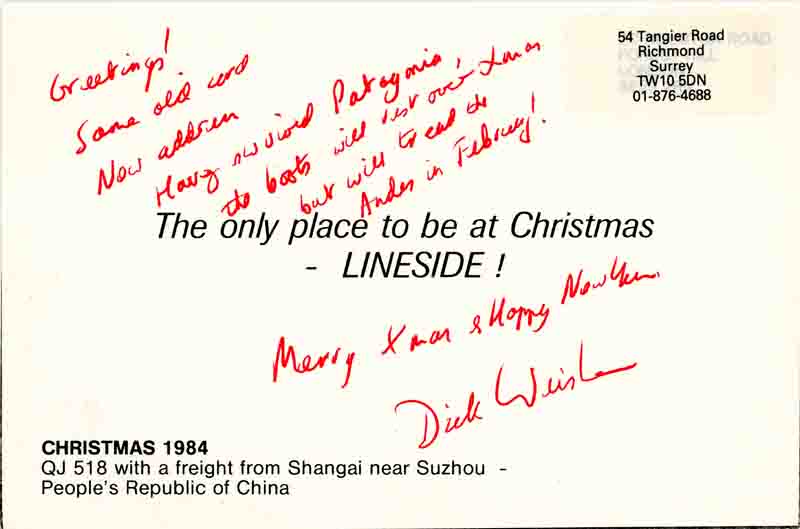 The message on the above card reads: "Greetings! Same old card New address. Having survived Patagonia the boots will rest over Xmas but will tread the Andes in February! Merry Xmas & Happy New Year."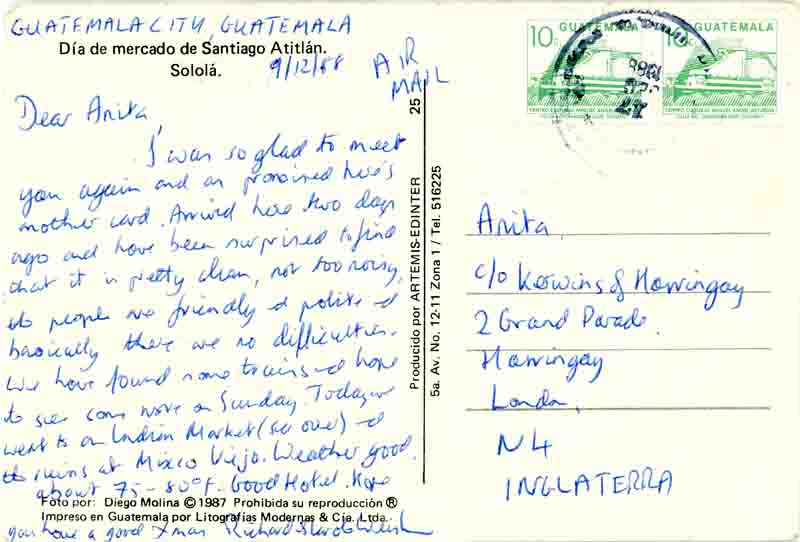 The message on the above card reads: "Dear Anita, I was glad to meet you again and as promised here's another card. Arrived here two days ago and have been surprised to find that it is pretty clean, not too noisy, the people are friendly & polite & basically there are no difficulties. We have found some trains and hope to see some more on Sunday. Today we went to an Indian market (see over) & the ruins of Mixio Viejo. Weather good, about 75-80°F. Good hotel. Hope you have a good Xmas."