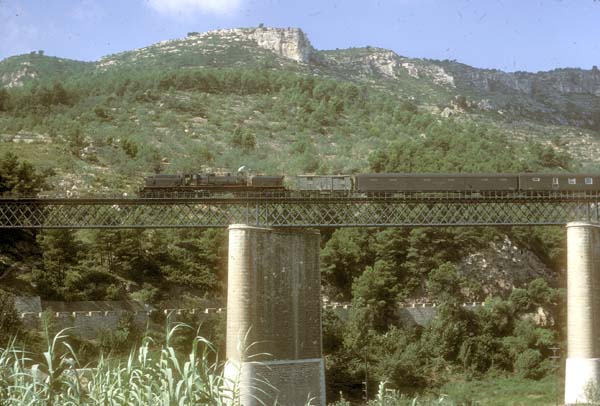 A Babcock & Wilcox built 2-8-2 + 2-8-2 Garratt, one of the batch built for the RENFE in 1961, heads a Lerida to Tarragona passenger train away from Picamoixons on 6/9/1968.
Photo Paul Riley
The photographs in these galleries cover the the broad gauge network operated by the RENFE largely in the era when the pace of modernisation was beginning to quicken following the long period after the civil war when investment funds were very limited. This had resulted in the survival of some very old locomotive types well into the 1960s.
Both cover the lines built to the gauge of six Castilian feet, broad gauge by European standards with the first covering the routes built before nationalisation by the Norte plus the RENFE built line to Pobla de Segur and the former Estado operated branch to Cullera from Valencia. The second covers the routes built by Madrid, Zaragoza & Alicante; Andaluces plus that from Alcantrilla to Guadix; Central of Aragon; Oeste; & Santander Mediterraneo.