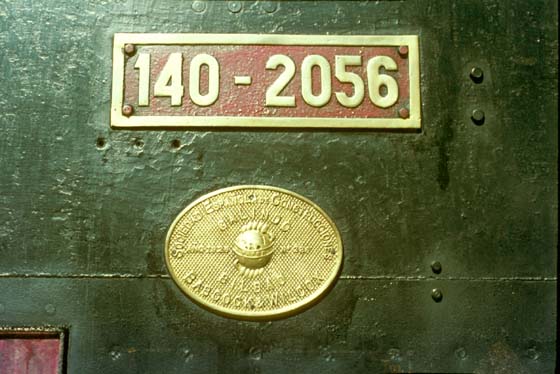 The number & builders plates on the cab side of a former Andaluces 2-8-0 stood in Guadix shed yard on 22/6/1966.
The RENFE locomotives are divided into groups covering the various private companies from which it was formed, with a final section covering those built after nationalisation. The smaller RENFE constituents are included in the section on the Oeste and the Central of Aragón is included in that on the Andaluces. The narrow gauge public railways are divided into two sections, the first east of Madrid and the other west thereof. Similarly industrial locomotives are divided up between those from the coal industry & those from other industries. A picture of each class of locomotive of which photographs exist in the Trust's collection is displayed in the relevant photo gallery listed on the right.
Much of the information regarding RENFE motive power that is quoted in these pages was taken from the standard work in English on Spanish locomotives - Lawrence Marshall's 'Steam on the RENFE' published in 1965 and long out of print.