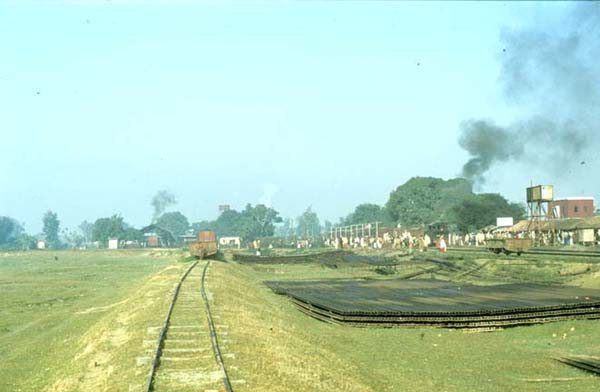 A general view of the station and yard areas at Khajuri taken on 20th January 1981 by the late Basil Roberts. A train to Jaynagar is standing in the station headed by Orenstein & Koppel 2-6-2T 'Rama' and the lines shed & workshops are located in the trees on the left.
The pictures in this section do include a couple taken just over the border in India at the junction station of Jaynagar on the line that was active at this time.
There were two lines, both of 2' 6" gauge, built across the border into Nepal from India The first of these opened in 1927 ran from Raxaul in India over the border to Birganj and on for a further 32 km to Amlekhganj where it connected with a cable rope-way that was used to transport goods on to Kathmandu over a mountain range. Apart from the section between Raxaul & Birganj, the gateway for a high percentage of Nepal's imports, this line has been inactive for many years although there was some discussion by 2004 of constructing an electrified railway through to Kathmandu.
The other line some 80 km to the east ran from a junction with Indian Railways at Jaynagar northwards to Janakpur, a place of pilgrimage for Hindus. This line was opened in 1937 and is still in operation, albeit in a very run down condition, using second hand diesel locomotives acquired from India. Here again there are discussions currently taking place about possible investment & conversion of the line to broad gauge.
To view any full size image and caption details please click the maroon button below each thumbnail