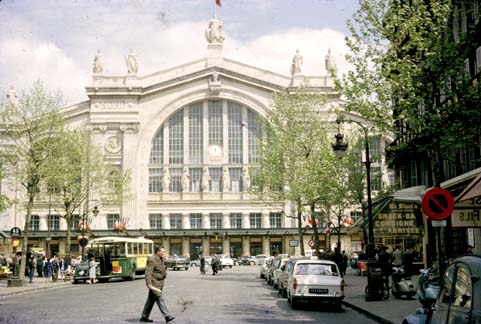 The facade of the Gare du Nord in Paris on 12/5/1963
Photo Norman Glover
A selection of pictures covering French railways appear on the following four pages. The first gives some brief notes regarding the steam locomotives used on the main lines of France intended to provide some very general background information. The next covers the lines of the SNCF and its predecessors, then the section depicting the remnants of the once very extensive network of mainly metre gauge secondary railways that covered the country, and finally a brief look at some industrial railway systems. A single tram picture has been added at the bottom of this page.
The section of the Réseau du Vivarais that survived as a Tourist service between Tournon and Lamastre ceased operations in 2009 leaving only a more limited operation at the northern end between Dunières and St. Agrève. There is a picture below on the Réseau Breton branch from Guingamp to Paimpol which had been converted to dual gauge as early as 1924 as most of its traffic was generated by its connection to the main line to Brest; with the metre gauge rail finally being removed in 1953. The section of the Réseau Breton between Carhaix and Guingamp was also then converted to standard gauge when the remaining metre gauge lines were closed in 1967.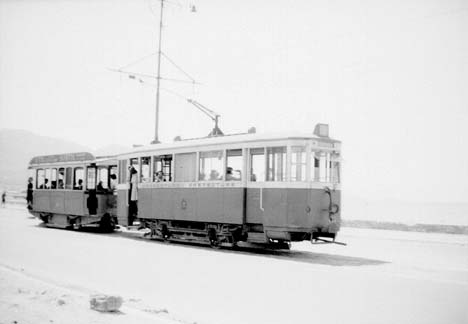 Electric tramcar number 1895 & trailer 392 travel alongthe Rue de la Plage beside the Mediterranean in Marseille - 17/8/1945
Photo Les Perkins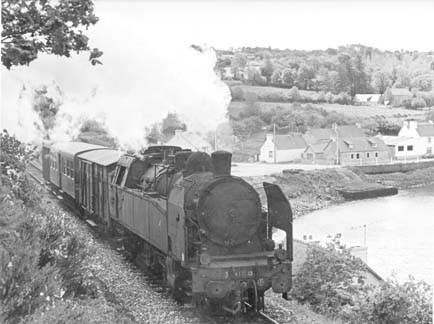 Former Etat Class 141TC 2-8-2T number 141TC.13, built by Fives-Lille (4322/1923), heads a mixed train from Guingamp to Paimpol near Lancerf on 28/5/1967.
Photo Paul Riley