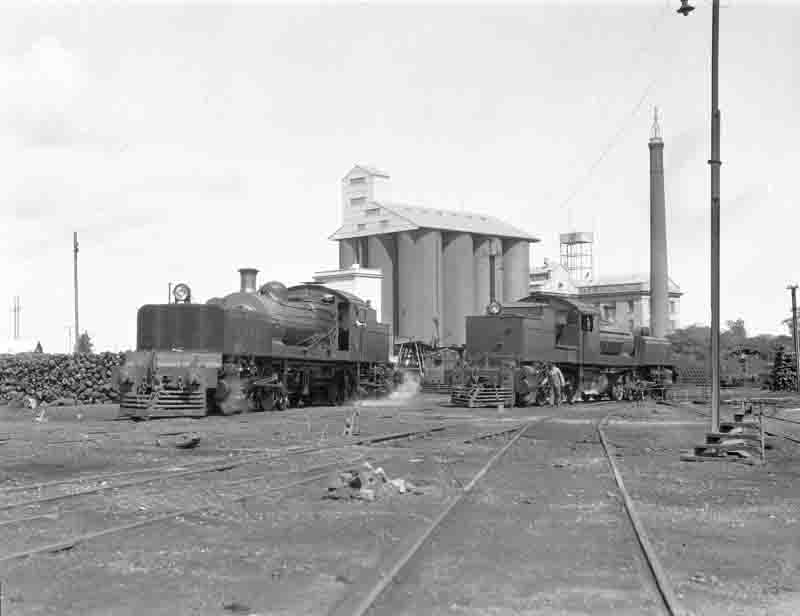 A pair of standard gauge class D 4-4-2+2-4-4 Garratts, of the three supplied to FC Nord Este Argentino by Beyer Peacock in 1930, stand in an unknown yard, circa 1930. Photo Beyer Peacock - Chris Walker Collection
Apart from the 3 mentioned in the caption above, 5 locomotives of this type were also supplied to the FC Entre Rios in 1927 with all passing to the FC General Urquiza in 1948. If anyone does know the location of the above photograph, please let us know as it would be nice to complete the caption.
At one time the public railways of Argentina utilised five different gauges; 60cm, 75cm. 1m, standard (1435mm), and 1676mm, although the closure of the Correntino system in 1969 has eliminated one of these.
Here at present we have a selection of pictures on the 75cm gauge RF Industrial de Río Turbio in steam days and now scenes on the metre gauge Transandino line from Mendoza in the days when that was also steam worked. Coverage of other railways in the country will be added in due course.

©2017 The Restoration & Archiving Trust - Registered in England no.1083582