The house that will ultimately form a major part of our archives future home remains a private residence for the present, so we are short of space in which to house all the computer equipent, reference books and orginal source photographs that are needed to support the ongoing development of the archive. Consequently we have obtained planning permission to construct a library facility in the garden on land that for the present is leased to the trust, until such time as the whole property passes into its hands. All we need to do now is to raise the estimated £50000 that will be required to build and equip this structure. Extracts from the planning drawings are shown below and on the one showing the floor layout, the line indicating its overall length of 11.5 metres will be progressively marked in red to show the progress of the fund. As a registered charity we will be able to claim gift aid on any donations made by UK taxpayers, for further details on making donations please see below.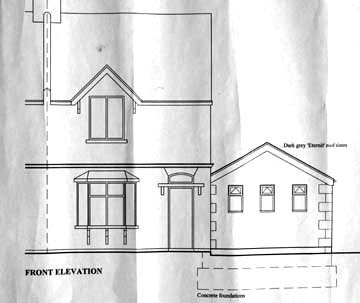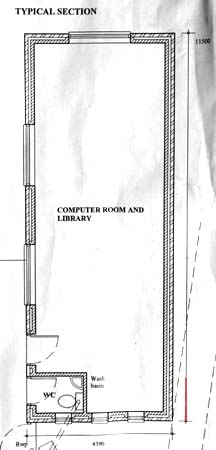 Donations can be made by sterling cheque by post to the address shown here on our Contacts page. Alternetively these can be made via Paypal using the Donations button below. All donations will be acknowledged. Could any UK taxpayers that are willing to allow us to claim Gift Aid, please print out & complete this declaration form & post it to us.
It is hoped that the provision of this facility will also help us recruit interested individuals to assist with the ongoing work on the archive and associated activities such as our website. Visits by appointment should also become more practical, so of course any donor would be more than welcome to come along and see what they have helped create.

©2013 The Restoration & Archiving Trust - Registered in England no.1083582